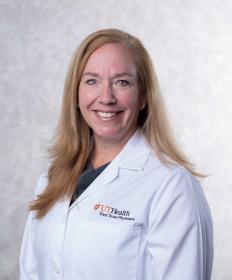 Physician Group:
UT Health East Texas Physicians
Practices At:
Hours:
Monday - Thursday, 8:00 a.m. - 5:00 p.m.
Friday, 8:00 a.m. - Noon
Tina Elkins, MD, is a board-certified otolaryngologist (ENT) at UT Health East Texas Physicians in Athens who sees patients of all ages. She treats a wide range of illnesses including ear and tonsil infections in children, as well as adult sinus infections, allergies, hearing loss, head and neck cancers and thyroid disease.
"I try to put the patient first in every appointment. During my clinic day, I want to ensure that the patient and their family leave with a clear understanding of our treatment plan," she said.
Dr. Elkins became fascinated with learning sign language and learning about hearing loss after attending summer camp with hearing impaired individuals. This led to her studying communication disorders in college, where she worked for an otolaryngologist. It was then that she fell in love with otolaryngology and decided she wanted to follow the same path.
Dr. Elkins speaks Spanish and American Sign Language at a basic level. When not seeing patients, she enjoys spending time with her family, traveling, skiing, going to the beach and hiking.
Board Certifications:
American Board of Otolaryngology, Board Certification
Education:
Residency/Chief Resident: Otolaryngology, The University of Texas Health Science Center at Houston
Internship: Surgery, The University of Texas Health Science Center at Houston 
Doctor of Medicine: Texas Tech University Health Sciences Center, Lubbock
Bachelor of Science: Communication Disorders, Texas Tech University Health Sciences Center, Lubbock
American Academy of Otolaryngology – Head and Neck Surgery, Member
American Academy of Otolaryngology and Allergy, Member