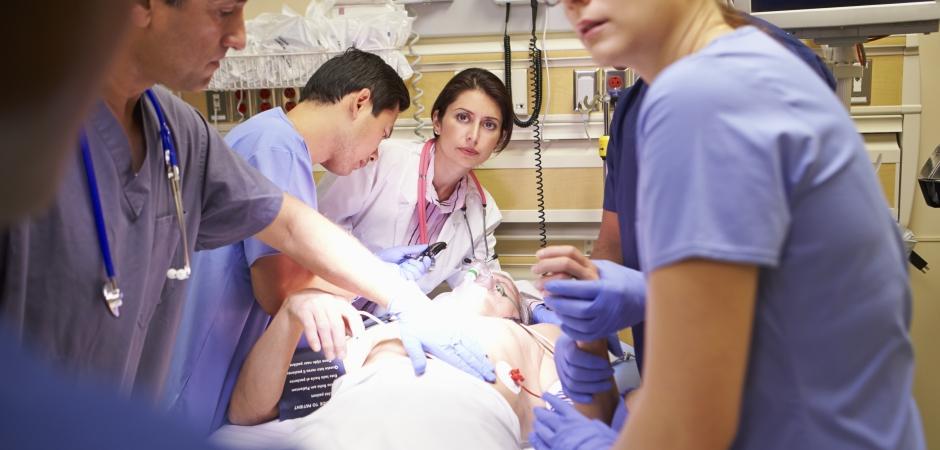 Emergency room (ER) in Athens, TX
When there's an emergency, you need quality care, fast. UT Health Athens offers emergency care around the clock, every day of the year. Our team stands ready to provide comprehensive and quality of care for your emergency -- big or small. You will be cared for by board-certified, emergency doctors who are able to respond to any type of medical emergency - from the most serious life-threatening cases down to minor cuts that need a few stitches. We have served thousands of patients and will continue offering expert care for years to come. 
Level IV Trauma Center
UT Health Athens ED is a certified Level IV trauma center by the state of Texas because of our ability to deliver advanced trauma life support (ATLS). This includes rapid evaluation, stabilization and diagnostic capabilities for sick and injured patients, along with the ability to stabilize and transfer to a higher level of trauma care, if necessary.
Level IV Stroke Center
UT Health Athens has been designated as a Level IV support stroke facility (SSF) by the state of Texas. This means our emergency center has met all guidelines for providing resuscitation, stabilization, assessment and treatment, and has the ability to transfer the patient to the UT Health Tyler Comprehensive Stroke Center.
A Level IV Support Stroke Facility has 24/7 access to emergency center doctors and nurses with specialized, ongoing stroke training, diagnostic CT scans, lab technician and services.
Faster Emergency Care
At UT Health Athens emergency room, all elements are in place to treat your emergency, including the following:
Level IV stoke support facility designated by the Texas Department of State Health Services
Physicians and nurses with advanced trauma life support training, so patients can receive immediate and appropriate care
Diagnostic services featuring x-ray, ultrasound, CT with iDose radiation reduction and other imaging modalities when needed
A Forensic Nurse is on call 24/7 to assist victims of sexual abuse
Laboratory services on-site
Private treatment rooms
The ability to monitor and stabilize heart attack and stroke patients
Transfer to UT Health Tyler Level 1 trauma center, if higher level of care is needed.
What to expect at the emergency department
A specially trained triage nurse will assess you and determine the severity of your condition and in what order you will be treated. Patients who are critically ill or seriously injured are treated first, regardless of their time of arrival. Some patients may bypass the triage process. In these circumstances we appreciate your cooperation. 
UT Health East Texas EMS and AIR 1 answering the call 
When an emergency happens and seconds count, the men and women of UT Health East Texas EMS and AIR 1 answer the call. Each ambulance and emergency helicopter features Pulsara, an advanced mobile communication technology to track heart and stroke patients in real time before, during and after arrival at the emergency room. Every second saved during an emergency, improves the likelihood of a life saved. 
UT Health Cedar Creek Lake also cares for Henderson County emergencies
Residents of western Henderson County benefit from quick access to the 24-hour emergency department at UT Health Cedar Creek Lake. An emergency care physician is always on duty, with support from a team of advanced practice providers and highly trained nurses. The facility also features 24/7 imaging technology and laboratory testing services.