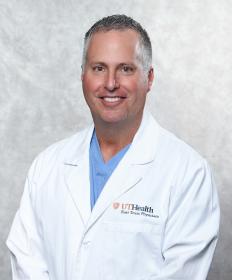 3.7 out of 5
Physician Group:
UT Health East Texas Physicians
William A. Elfarr, MD, FACS is a board-certified urologist, for UT Health East Texas Physicians in Athens, Palestine and Kaufman. Elfarr sees patients of all ages with various urological problems. "I practice all aspects of urology in a rural setting."
Dr. Elfarr started in the medical field to fulfill a need to help people and to provide a service in the part of Texas where he grew up. "My care philosophy is to provide state-of-theart urological care to East Texans in a compassionate way." Dr. Elfarr was always drawn to urology because he found it intellectually stimulating. "I always I was drawn to a surgical specialty. Urology has a good blend of medicine and surgery." Dr. Elfarr is also fluent in Spanish.
Board Certifications:
American College of Surgeons, Fellow
Education:
Urology Residency: The University of Texas Medical Branch at Galveston
General Surgery Residency: The University of Texas Medical Branch at Galveston 
Surgery Internship: The University of Texas Medical Branch at Galveston 
Doctor of Medicine: The University of Texas Medical Branch at Galveston 
Bachelor of Business Administration: Finance, The University of Texas at Austin 
Texas Medical Association, Member
American Urological Association, Member
Texas Urological Society, Member, Past President
South Central Section of the American Urological Association, Member
Henderson County Medical Society, Member
American Association of Clinical Urologist, Member
American College of Surgeons, Fellow