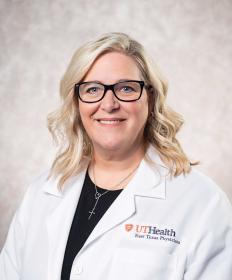 Practices At:
Hours:
Monday - Thursday 8 a.m. - 5 p.m.
Friday 8 a.m. - 12 p.m.
Kristi Gore-Stewart, MSN, APRN, FNP-C, is a family nurse practitioner at the UT Health East Texas Physicians Gastroenterology (GI) Clinic in Athens. She believes in caring for her patients in the same way she would her family. "Patients are more than just symptoms and test results. They are complex individuals that include not only a physical component, but an emotional component as well. It is my job to know the whole person, their families and their lives." 
Kristi started her career in gastroenterology and knew she would come back to it, as it is her passion.
A friend's experience with the healthcare system moved Kristi to choose a career in nursing. "My first year of college, my path was social work. However, that changed when I had a dear friend suffer a severe head injury after a motor vehicle crash, requiring months in the hospital and rehab. I spent months by his side and saw how the field of nursing could change someone's life. It was then, I changed my major to nursing and never looked back. It was one of the best decisions I have ever made."
When not treating patients, she enjoys spending time with her husband and children. Kristi also enjoys crafting, making cheer bows and being a DIYer.
Education:
Master of Science: Nursing, The University of Texas at Tyler
Bachelor of Science: Nursing, Baylor University, Waco